Sign up to receive the Quietencounters2 Newsletter by
clicking on the below link. The newsletter will tell you about
upcoming events and happenings at the club. Don't miss
out! Stay informed about the club!


NOTE:
If you previously signed up for our emailing list, you should be good to go.
We sent out a message on Mar 2, 2015. If you did not receive it please click the
link below and sign up again.


Click Here to Sign Up For the Newsletter Today!!

Number of page
views since
January 16th, 2013

We are located at:


14801 Montana

Map located on bottom of this page


Hours of Operation

Friday 9PM - 3AM
Saturday 9PM - 4AM

How would you like us to create you an e-mail
account like:


YourID@quietencounters2.com


We are offering QE email addresses to our
long time dedicated members.

If you want one just send an e-mail to the
webmaster!


webmaster@quietencounters2.com

Got a suggestion or comment for QE? Click
on the Contact Us page!

QE is now on Facebook. Click the logo
below to go to the Quietencounters2
Facebook Page.

JOIN US ON SDC.COM
Click the banner below!

ABOUT US

We are a community of persons sharing a
similar point of view and philosophy as to
social and sexual liberations. We believe that
this type of expression is a right that is
guaranteed to all persons under the United
States Constitution.



Purpose

To provide a non pressure and safe
environment for like minded adults to socialize.



Attendance

We are open to couples, females, and single
males. See the membership page to learn
about membership and first time attendance.



What We Offer

We are a fairly large club (currently 9000 sq ft
with plans to increase to 12000 sq ft) with
several movie viewing areas including a large
viewing area for couples only, pool table, large
dance floor with music for all tastes, and some
private and semi private areas. We are a
BYOB club and we do provide soft drinks, ice,
and light snacks. Birthdays will be celebrated
on the 3rd Saturday of each month.

CLUB RULES


1. No means No

2. You must be 21 or older

3. Upon entry to the club you must show
your membership card

4. No drugs, weapons, prostitution of
any kind, no cameras or recording
devices of any kind are allowed

5. Any interaction between club
members must be consensual and by
invitation

6. The club reserves the right to revoke
or refuse membership to anyone

IMPORTANT NEWS:



Membership Update:


There has been a change to the membership
rules regarding new members. Please go to
the membership page and read the changes.


New Photos


We have added some new photos to the photo
page. See our new VIP and Group areas.

1111111111111111111111111111111111111111111111111111111111111111111111111111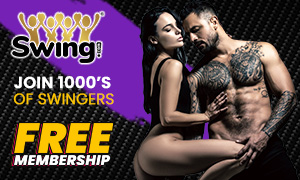 Swingers: www.SwingLifeStyle.com
Click on View Larger Map to get a better view------------>

Use the map to the right
to find where we are
located!!!

Jacuzzi is now
open at QE, on
Friday's for all.

(bring your own towel)

Saturday's for
VIP only.

GET OUR QUIET ENCOUNTERS NEWSLETTER

S
hirt & Heels
Party
Sat, A
pril 9
th, 2016

Can you think of anything sexier than a woman in a
man's long tail dress shirt with high heel shoes on?
Wow!!! it makes me weak in the knees just thinking
about it. Men pick out your best dress shirt and let
her borrow it for this fun filled sexy night and let's
make some april madness.

Be as sexy as you wanna be!
Doors open at 9 p.m.

______________________________